The frequency of how often a forklift receives a routine maintenance check-up plays a major role in the performance and longevity of your equipment.
OSHA has their own requirements for the maintenance of forklifts. According to their guidelines, if a forklift is not "in safe operating condition, it should not be used. They also require "all repairs shall be made by authorized personnel." Keeping OSHA's requirements in mind, there are a few ways to determine how often your lift trucks should be serviced.
Hours of Operation vs Time
Most forklift companies will recommend servicing your lift truck based on usage intervals and time intervals. Usage intervals are measured using pedal hours or key hours while time intervals are measured in days and months.
We at Hodge recommend your forklift is serviced based on hours used. Here is what a maintenance schedule based on hours looks like:
Every 200 hours a full service is recommended. A factory trained technician will:
Install a new fuel filter
Grease of chassis and mast components
Adjust ignition timing and engine idle speed
Change the oil and install a new oil filter
Install a new air filter
Inspect the lift, distributor point, drive belt tension, spark plugs, cap and rotor
Every 600 hours, the hydraulic system should be serviced. A technician will:
Replace hydraulic oil
Inspect the lift chain tension, pedal free play, mast operation, carriage rollers, lift and tilt cylinder operation, hand brake, hydraulic oil pump, differential and transmission oil, fuel filter, PCV valve, and hoses
Clean the radiator

Replace the fuel filter

Replace the hydraulic filter
Adjust the clutch release bearing, mast support bushing, tilt cylinder pins and chassis links
Understand how preventative maintenance can impact your operation and save you money.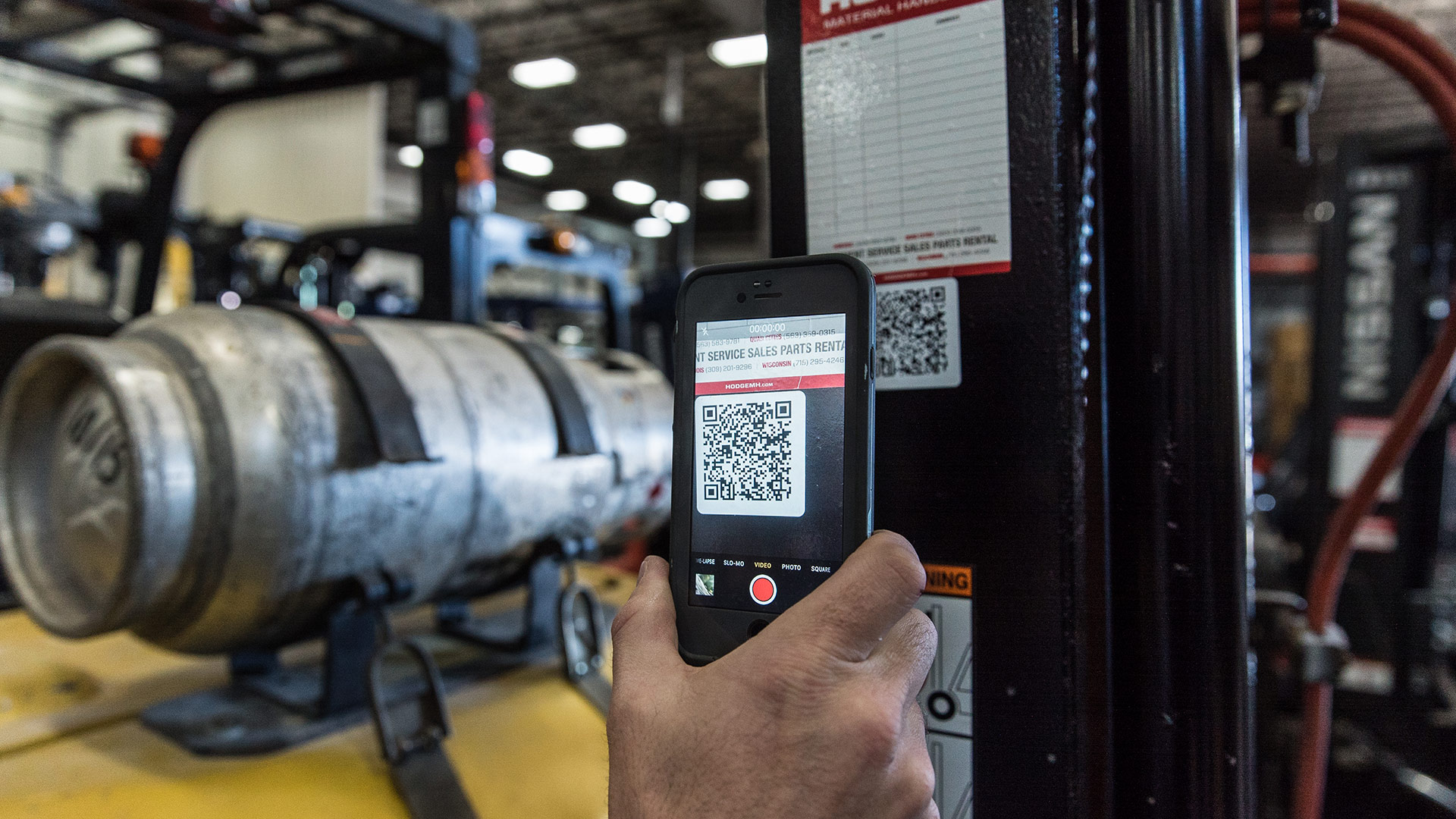 The more you use your forklift, the more often you should have it serviced by a factory trained technician. A forklift that gets heavy use might require a forklift maintenance visit every 90 days. Be sure to keep a copy of the items inspected on file in case OSHA requests that information.
Other Factors
In addition to the hours of usage, other factors should be considered when scheduling your forklift maintenance visits. Things like the:
Age of the equipment
Working condition
History of maintenance
Application type.
For example, if your work environment is dirty or rugged, you'll need planned maintenance visits more frequently.
Every forklift is different. The best way to determine your forklift service intervals is to consult with your technician and/or aftermarket support specialist to determine a maintenance schedule that fits your needs based on application, hours of usage, environment, specific type of equipment and forklift manufacturer.
Interested in talking to a Hodge expert about preventative maintenance?
Fill out the form below to have Hodge expert reach out to you.