Safety is about more than just the operator. The equipment also plays a huge role.
When it comes to forklift safety, there are two main factors involved – your operators and your equipment. In order to avoid dangerous, costly accidents and repairs, it is important that both your operators and your forklifts are in tune and up to code with daily and scheduled preventative maintenance checks.
Forklift Operator Safety
Your forklift operators are your first line of defense when it comes to forklift safety. It's up to each operator and fleet manager to ensure day-to-day safety is as efficient as possible. They are the ones your operation relies on to report if a forklift isn't working in optimal conditions which could lead to hazardous work environments or worse, injury to themselves or other workers.
Reporting possible issues with forklifts is so important that OSHA requires operators perform a daily lift truck inspection checklist before their shift. Below is a list of what a list might look like for a gas forklift. Check lists will vary based on type of forklifts in your fleet.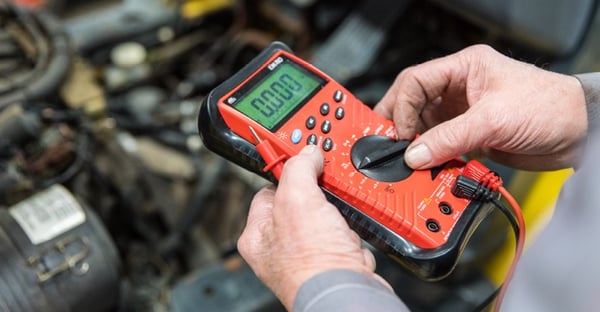 Operator's Daily Checklist for Internal Combustion Engine Industrial Truck
Engine Off Checks
Leaks – Fuel, Hydraulic Oil, Engine Oil or Radiator Coolant
Tires – Condition and Pressure
Forks, Top Clip Retaining Pin and Heel – Check Condition
Load Backrest – Securely Attached
Hydraulic Hoses, Mast Chains, Cables and Stops – Check Visually
Overhead Guard – Attached
Finger Guards – Attached
Propane Tank (LP Gas Truck) – Rust Corrosion, Damage
Safety Warnings – Attached (Refer to Parts Manual for Location)
Battery – Check Water/Electrolyte Level and Charge
All Engine Belts – Check Visually
Hydraulic Fluid Level – Check Level
Engine Oil Level – Dipstick
Transmission Fluid Level – Dipstick
Engine Air Cleaner – Squeeze Rubber Dirt Trap or Check the Restriction Alarm (if equipped)
Fuel Sedimentor (Diesel)
Radiator Coolant – Check Level
Operator's Manual – In Container
Nameplate – Attached and Information Matches Model, Serial Number and Attachments
Seat Belt – Functioning Smoothly
Hood Latch – Adjusted and Securely Fastened
Brake Fluid – Check Level
Engine On Checks – Unusual Noises Must Be Investigated Immediately
Accelerator or Direction Control Pedal – Functioning Smoothly
Service Brake – Functioning Smoothly
Parking Brake – Functioning Smoothly
Steering Operation – Functioning Smoothly
Drive Control – Forward/Reverse – Functioning Smoothly
Tilt Control – Forward and Back – Functioning Smoothly
Hoist and Lowering Control – Functioning Smoothly
Attachment Control – Operation
Horn and Lights – Functioning
Cab (if equipped) – Heater, Defroster, Wipers – Functioning
Gauges: Ammeter, Engine Oil Pressure, Hour Meter, Fuel Level, Temperature, Instrument Monitors – Functioning
Forklift Maintenance Safety
The best safety measure you can take to ensure your equipment continues to operate under safe conditions, both for the machine and the operators, is to implement a preventative maintenance plan for your fleet. When your forklifts aren't working in optimal condition, it creates many hazards, unsafe working conditions and even emergency situations where injuries may occur. Preventive maintenance increases the safety of your forklifts and the safety of your workers resulting in fewer on the job injuries and accidents.
Understand how preventative maintenance can impact your operation and save you money.

During a preventative maintenance visit, a factory trained expert will visit your facility to identify any possible issues with your forklifts and fix them before they have a chance to cause harm. You can work together with your service provider to determine appropriate intervals for planned maintenance. Because of budgeting purposes, many customers schedule visits based on the calendar. In actuality, it might make more sense to schedule preventative maintenance visits based on hours of forklift usage.
Even on your operation's busiest days, one thing that cannot be overlooked is the safety of your equipment and your workers. Protect your workers from injury and your company from unforeseen expenses with a preventative maintenance plan for your fleet.
Interested in talking to a Hodge expert about preventative maintenance?
Fill out the form below to have Hodge expert reach out to you.