Are you looking for a new or used forklift for your business, but not sure which type of lift is right for you? There are a lot of options out there, but one of the biggest decisions you'll need to make is whether you want a liquid petroleum (LP) gas or an electric-powered forklift.

Let's weigh the pros and cons of electric and LP forklifts.
ELECTRIC FORKLIFTS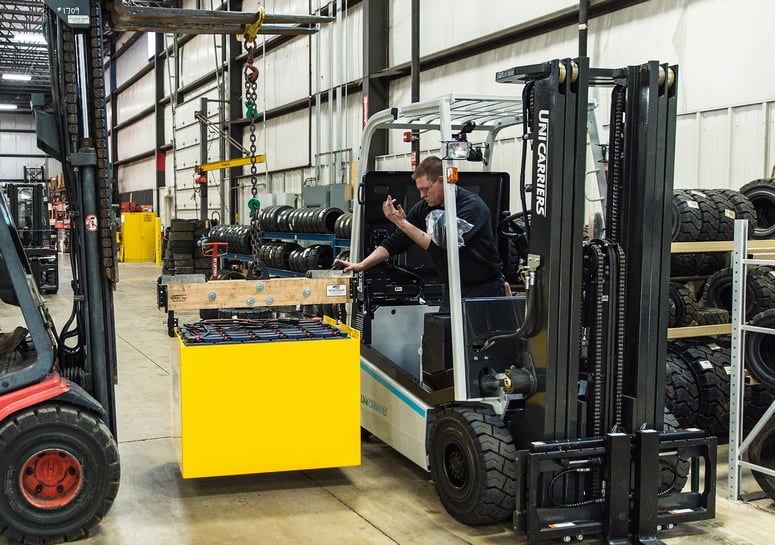 PROS
1. Electric forklifts generally have a longer lifespan than LP forklifts. This is typically because electric forklifts have fewer parts and moving components.
2. Electric forklifts require less maintenance. Because these trucks are battery-powered and there is no engine maintenance that needs to be completed on a regular basis.
3. Electric forklifts are easy to maneuver and have better ergonomics due to very minimal vibration.
4. Electric forklifts have zero tailpipe emissions and produce less noise, which means a safer work environment for you and your team.
5. Electric forklifts can operate in a 24/7 operation with opportunity charging.
6. Electric forklifts can be suitable for both indoor and outdoor conditions.
7. Electric forklifts allow you to control your fuel cost up front.
8. Electric forklifts are eligible for rebates through energy companies.
CONS
1. Electric forklifts have a higher upfront cost. However, the cost of ownership throughout the lifespan of an electric forklift is lower than an LP forklift.
LP FORKLIFTS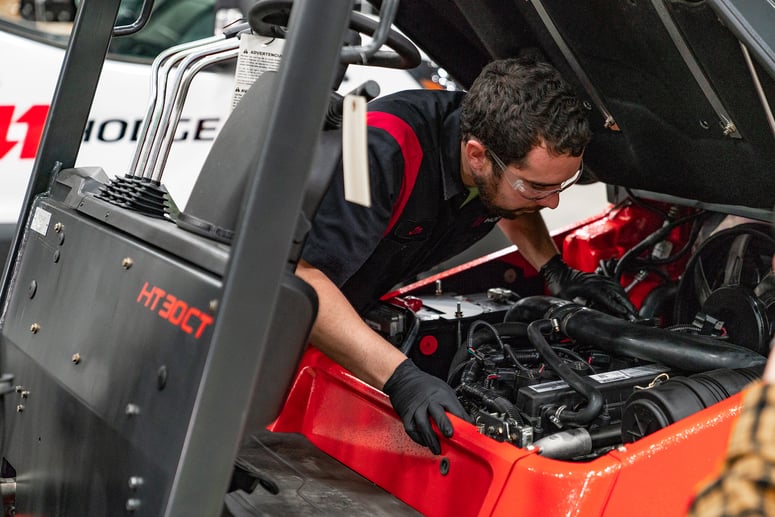 PROS
1. LP forklifts have a lower upfront cost. In many cases, you might see that you'll save 10-15% on the initial cost of an LP forklift opposed to an electric truck.
2. LP forklifts could mean less downtime because you'll never need to rely on an operator plugging the battery into a charger.
3. If your forklift is running low on fuel, just add more. There is no need to worry about waiting for a full charge.
4. LP forklifts are suitable for both indoor and outdoor conditions.
CONS
1. LP forklifts require engine maintenance and gas. Although you saved money on the initial purchase of the equipment the cost of maintenance and gas can add up overtime.
2. Ergonomics of changing an LP tank can lead to injuries for you or your employees.
LET US HELP!
As you can see both electric and LP forklifts have strengths and weaknesses. It's important to look at your business needs and determine which forklift option best fits your business. Budget, usage, environment, play a role in determining which forklift option is right for you.

Our HODGE forklift consultants are here to help you in the decision-making process.
Contact one of our HODGE sales reps who can get you set up with the best equipment for your needs.
Or, fill out the form below and our team will reach out with more details on purchasing a forklift for your organization.